Schoellhorn-Albrecht Builds Cart & Rail Accommodation Ladder Stairway System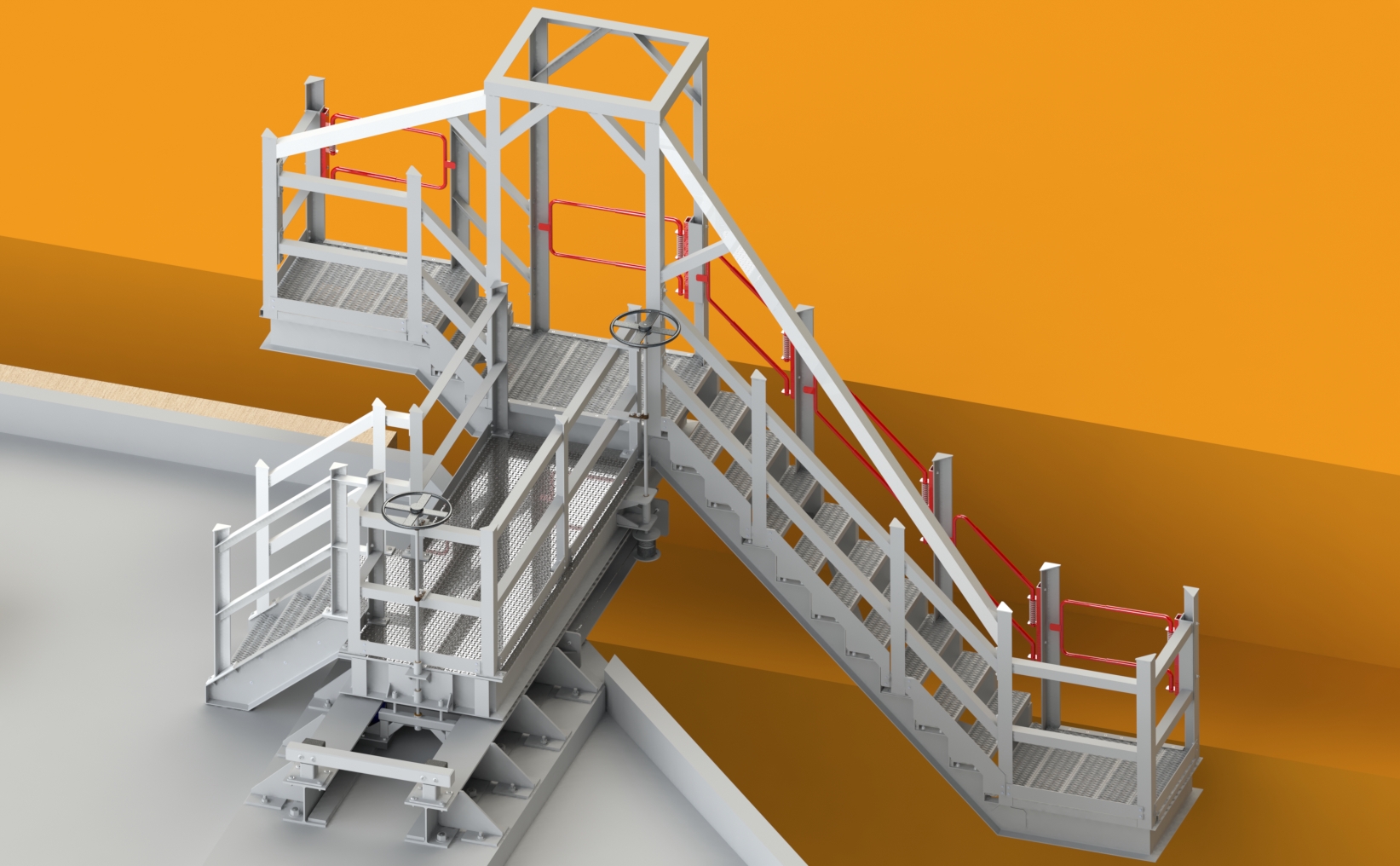 Schoellhorn-Albrecht designed, fabricated, and delivered two [2] custom cart and rail accommodation ladder systems for use by a midwest refinery. The systems were delivered in December of 2016 and were immediately installed and put into service.
Each ladder system was built around two [2] W-Shape beams for guide rails. These were mounted to the concrete foundation and overhung the dockside by ≈ 4-5 feet. Forward and rear rail bumpers were provided as stops for the cart.
The cart assembly was installed between the rails, and the stair assembly was attached to the barge end of the cart assembly. The cart glides smoothly on the rails using high strength cast steel wheels. The operator uses two [2] hand wheels to maneuver the ladder system, one [1] to move the system to and from the barge, and one [1] to apply a friction brake to prevent the ladder system from moving unintentionally.
The stair assembly section of the ladder system was fabricated with aggressive grip strut treads. These were chosen to provide the most traction during the icy months of the year. To accommodate various barge deck levels, the stair system was built with a top and bottom platform positioned at the highest and lowest deck levels, respectively. Spring loaded gates were provided at each platform, as well as intermediately on the stairs, which allows for dock workers to access the barge safely and easily no matter the deck elevation.
Schoellhorn-Albrecht has received positive feedback from the company's project manager and dock workers, stating that the ladder system is straightforward, easy to use, and provides them with a safe way of accessing their work on a daily basis.