CUSTOM NAVSEA ACCOMMODATION LADDER
Aluminum 6061-T6 Ladder with curved treads. Customized lengths and widths to suit your application. Typical Maximum Inclination of 55°. Davit with Steel Stowage Equipment. NavSea Style Ladder and Platforms.
Available Options:
Feathering Self-Leveling Steps

Powered or Manual Winch Options

Folding Handrails

Removable Stanchions w/Rope or Chain Rails

Custom Upper & Lower Platforms

Dock / Deck Rollers or Casters

Custom Materials such as 5086 Heavy Duty Aluminum

Custom Coatings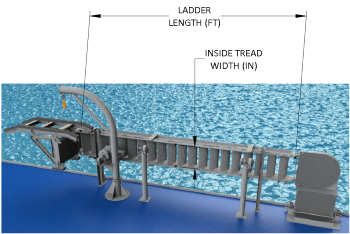 Product details and specifications are subject to change without notice. For additional information, drawings and specifications contact us.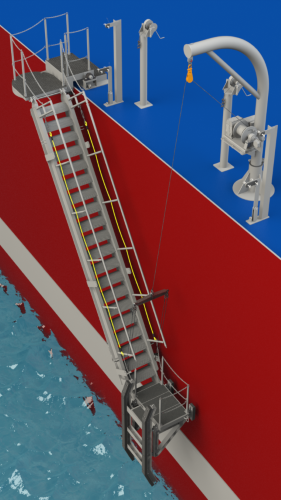 As Shown:
Deployed Position (Above)
90° Stowed Position (Left)
Folding Stanchions w/Rope Rails
Schoellhorn-Albrecht Custom Curved Fixed Tread
Powered Davit
Upper Rotating Platform (NAVSEA 804-2255408)
Removable Lower Platform with Fender and Ship Bumper for Ship to Ship Access (NAVSEA 804-2255403)

---
Request an Accommodation Ladder Quote