SELF STOWING GANGWAY
Heavy Duty Structural Aluminum Gangway with deck planking. Customized lengths and widths to suit your application. Typical Maximum Inclination of 30°. Davit with Steel Stowage Equipment.
Available Options:
Powered or Manual Winch Options
Folding Handrails
Removable Stanchions w/Rope or Chain Rails
Custom Upper & Lower Platforms
Dock / Deck Rollers or Casters
Custom Coatings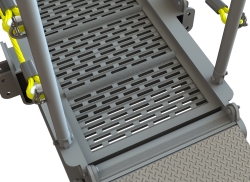 Deck Planking Detail
(shown with raised cleat option)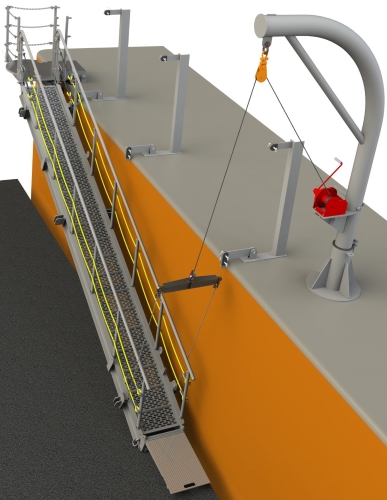 As Shown:
Deployed Position (Above)
90° Stowed Position (Right)
Aluminum Deck Planking with Cleats (Detail)
Folding Stanchions with Rope Midrails
Upper Rotating Platform
Lower Platform Ramp
Manual Winch
Davit with Stowing System

Schoellhorn-Albrecht designs and manufactures beam style gangways in a wide variety of sizes and styles.
Built with a heavier material and smoother surface our beam style gangways are ideal for permanent bridges or walkways. Customization options are available to accommodate your facility.
Our gangways are used by refineries, military ships, and industrial ships, operating effectively throughout the world.
Product details and specifications are subject to change without notice.
For additional information, drawings and specifications
contact us.
---